Facility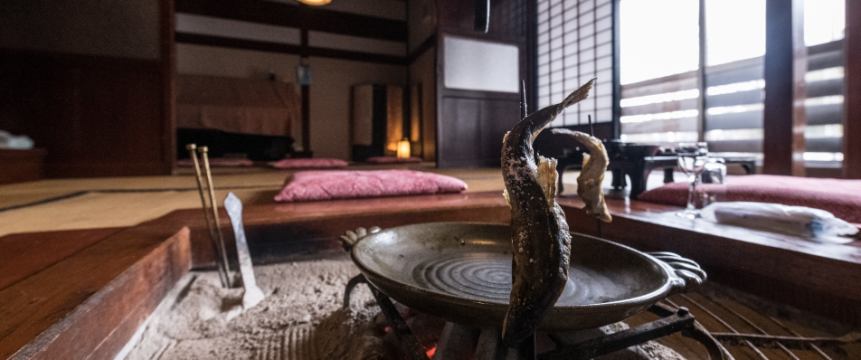 Between the hearth

Dinner in the morning and evening is here.Please enjoy the cozy local cuisine with charcoal fire.

A break

Please use it for a break in the bath.

1 hall
Number of rooms

Total number of rooms 12:12 Japanese Style Rooms

Room supplement

●"Toilet" "refrigerator" ... Shared.It is on each floor.

Standard room facilities

All rooms Air-conditioning / Television

Internet related

All rooms available
[Connection method]Wireless LAN
[PC rental]No
[Internet connection]Free
■All rooms · The whole building supports "wi-fi".

Amenities

Hand towel / toothbrush·Toothpaste / bath towel / shampoo / body soap / soap / yukata / duvet / shaving / cotton swab

Facility content

Hearth / Banquet hall(Toll) / non-smoking room

Service & Leisure (including arrangement)

Rafting(Toll)/Shogi/Go/Various outdoor observation sessions
February Kamakura experience(Toll)

Credit cards available locally

JCB / Visa / Master / American Express / UC / Diners Club

Standard check-in time

14:00

Standard checkout time

12:00

Supplement for amenity

"toilet"… Shared toilets are located on each floor, all western style.There is also "Wash toilet" one on each floor.
"refrigerator"… There are items to be shared in the corridor./ "Hairdryer"… We are preparing in the bathroom.
"pot"… In winter, keep warm pot and cold water in summer.

Onsen tax

Hotspring tax adult 150 yen separately.

Cancellation provisions

3 days ago - 1 day ago:30% of room charge
On the day of arrival:70% of the accommodation fee
Cancellation without any contact:100% of the accommodation fee
※If there is a cancellation rule setting for each accommodation plan, that will be given priority.
Hot Springs

Kiyotsukyo Onsen Setoguchi-no-yu

Number of baths

"Outdoor bath] Man: 0 Female: 0 Mixed Bath: 0
[Inner bath] Man: 1 Female: 1 Mixed Bath: 0
[sauna] Man: 0 Female: 0 Mixed Bath: 0

Bath Terms of Use

"Hairdryer"… We are preparing in the bathroom.
"Water"… Cold water is always in front of the bathroom.Please take a bath.